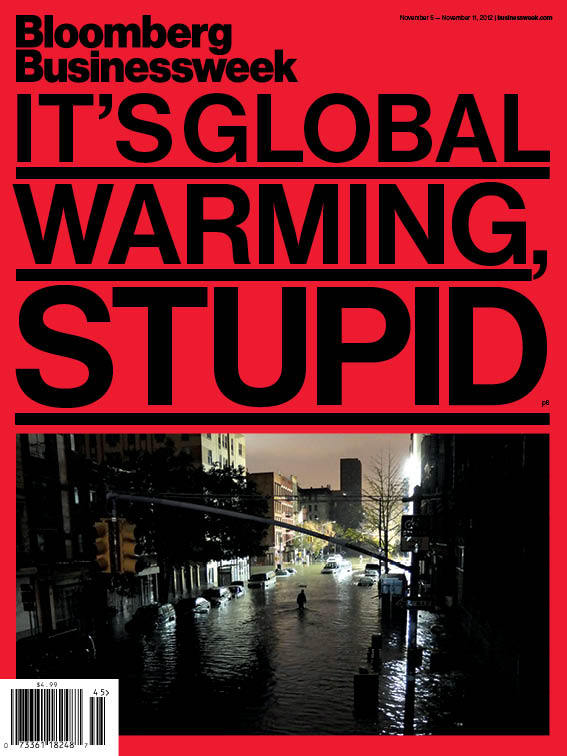 It's nice that there are some business people who can acknowledge the truth.
From the Bloomberg article:
The broadening consensus: "Climate change amps up other basic factors that contribute to big storms. For example, the oceans have warmed, providing more energy for storms. And the Earth's atmosphere has warmed, so it retains more moisture, which is drawn into storms and is then dumped on us." Even those of us who are science-phobic can get the gist of that.
Sandy featured a scary extra twist implicating climate change. An Atlantic hurricane moving up the East Coast crashed into cold air dipping south from Canada. The collision supercharged the storm's energy level and extended its geographical reach. Pushing that cold air south was an atmospheric pattern, known as a blocking high, above the Arctic Ocean. Climate scientists Charles Greene and Bruce Monger of Cornell University, writing earlier this year in Oceanography, provided evidence that Arctic icemelts linked to global warming contribute to the very atmospheric pattern that sent the frigid burst down across Canada and the eastern U.S.
New York Mayor Michael Bloomberg (
founder of the Bloomberg Businessweek) endorsed Obama, following the Hurricane, because (among other things) Obama at least does not go around denying and mocking Global Warming. Some of us have been disappointed that he has not made it more of an issue. I assume he must be under threat of retaliation from Big OIl or something. Why else not speak out? It's the major issue of our time.
The Economist also endorses Obama - at least partly because Romney flip-flops too much.
(Steve) Forbes magazine and the Wall Street Journal continue to deny, deny, deny global warming. Forbes article following Sandy was,
"
Leave It To The Global Warming Alarmists To "Make Fake Lemonade" Out Of Hurricane Sandy"
(NOAA), Hurricane Sandy, October 28, 2012
The Denialists say,
"
Sorry Global Warming Alarmists, The Earth Is Cooling"
"That is one of the most interesting conclusions to come out of the seventh International Climate Change Conference sponsored by the Heartland Institute..."

Conference held in May 2012 - Chicago
Not that they have any evidence - they just say that - to confuse people, to create the appearance of a debate.
The Heartland Institute promotes something it calls, "Free Market Environmentalism."
"The Heartland Institute and its ilk are not trying to build a theory of anything. They have set the bar much lower, and are happy muddying the waters." Nature 7/2011
Hurricane Sandy hit home for a lot of people - what with putting lower Manhattan out of commission. Flooding, subways shut down, power out - on Wall Street, no less.